The Great American BBQ Menu is Back! June 1st thru Labor Day
The Great American BBQ Menu!
all BBQ ENTREES are served with corn pudding, coleslaw & mashed potatoes
Dry Rubbed St. Louis Pork Ribs Half Rack 18 Full Rack 26
Murrays Farm BBQ Chicken 24
Pulled Beef Brisket 24
GABBQ "Taste it Y'all" Sampler 28
Available lunch & Dinner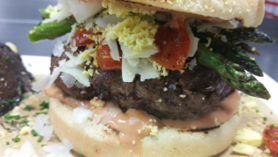 https://www.jamesbeard.org/blendedburgerproject/vote
This is a national wide promotion sponsored by The James Beard Foundation, to promote healthier burgers, have your customer eat enjoy and vote The James Beard Foundation is a New York City-based national non-profit culinary arts organization named in honor of James Beard, a prolific food writer, teacher, and cookbook author, who was also known as the "Dean of American Cookery."
The "JBB"
25% PORTOBELLO MUSHROOM BLENDED WITH 75% GRASS FED ANGUS BEEF, grilled and topped with grilled asparagus, blistered grape tomatoes, micro plane egg whites & egg yolks, shaved grana cheese & special sauce.
Chef JOSEPH SASSO has chosen to feature THE "JBB" BURGER $16.00, to showcase a healthier burger, from Memorial Day, May 29 through July 31, 2017. Blending meat with mushrooms reduces calories, fat, and sodium while adding important nutrients like vitamin D, potassium, and B vitamins. A blended burger also brings more sustainable, plant-based items to menus allowing Americans to enjoy the taste and flavor of the burgers they love, knowing it's a healthier and more sustainable preparation.
Diners can vote and support the Blended Burger Project™: